Sale
2022 Wisconsin Hereford Association Spring Sale Report
49 Total Lots Gross $175,175 Average $3,575
2 Dams & Daughters Gross 8,400 Average $4,200
4 Cow/Calf Pairs Gross $17,500 Average $4,375
6 Bred Cows Gross $ 15,050 Average $2,508.33
8 Bred Heifers Gross $ 31,200 Average $ 3,900
4 Fall Bred Heifers Gross $ 13,150 Average $ 3,287.50
12 Open Heifers Gross $32,800 Average $2,733.33
11 Bulls Gross $40,800 Average $3,709.09
1 Pregnancy $4,400
12 Embryos Gross $5,175 Average $431.25
2022 Wisconsin Hereford Queen Madison Katzenberger, Plum River Ranch, and WHA State Sale Lot 52, PRR MRK Maestro J167 ET
Top Selling Cow/Calf Pair
Lot 15 LPH Ms Haylee 4H a January 11, 2020 daughter of 2TK Perks 5101 Cadillac 8039 ET. Consigned by Lietzau Hereford Farm. Buyer: Donny Rihn of Bloomer, WI. $6800
Top Selling Bred Cow
Lot 13 VCC 507C Twister 12G a April 17, 2019 daughter of Churchill Toro 507C ET. Consigned by Vasey Cattle Co. Buyer: Ty Jurgersen of Clinton, IA. $2800
Top Selling Bred Heifer
Lot 25 Huth E078 Mandy H008 a April 21, 2020 daughter of /Mandate 66589 ET. Consigned by Huth Polled Herefords. Buyer: Landen Knuth of Loganville, WI. $6400
Top Selling Fall Bred Heifer
Lot 28 C&L Miss Sierra 173D 35H ET a November 15, 2020 daughter of NJW 79Z Z311 Endure 173D ET. Consigned by C&L Hereford Ranch. Buyer: Mohican West of Lavrel, MT. $4400
Top Selling Open Heifer
Lot 31 Brookview 15E Jolene 19J a February 4, 2021 daughter of AH JDH Munson 15E EY. Consigned by Boettcher's Brookview Acres. Buyer: Starck Century Farm of Cadott, WI. $4000
Lot 33 C&L Miss Melody 229G 9J a February 23, 2021 daughter of Green JCS Makers Mark 229G ET. Consigned by C&L Hereford Ranch. Buyer: Christopher Illg of Cainsville, MO. $4000
Top Selling Bull
Lot 48 MGM Herd Builder 28H a November 3, 2020 son of MCM 6964 Bolt 652D. Consigned by MGM Polled Herefords. Buyer: Andrey Toppert of Fulton, IL. $6300
Top Selling Pregnancy
Lot 3 Choice of Heifer calf Pregnancies of CH High Roller 756 ET and PRR MRK Kisses 162D ET. Consigned by C&B Farms and Madison Katzenberger. Buyer: Double J Herefords of Iowa Falls, IA. $4400
Top Selling Embryos
Lot 2A CH High Roller 756 ET and PRR MRK Kisses 162D ET. Consigned by Plum River Ranch. Buyer: Jet Cattle Co of Fennimore, WI. $550
Cattle sold to WI, IL, IA, SD, MT and MO
Wisconsin Hereford Association Heifer Grant Winner
Landen Knuth of Loganville, WI
Landen Received a $500 grant towards the purchase of a female in the sale
The Wisconsin Hereford Association congratulates Landen Knuth
The Wisconsin Hereford Association congratulates Landen Knuth, of Narrows Creek Farm, Loganville, WI, on earning a WHA Heifer Grant for use toward purchase at the State Sale in Fennimore. Landen purchased Huth E078 Mandy H008 at the WHA State Sale on March 5, 2022. Pictured from left: Jerry Huth, Huth Polled Herefords, Issac Knuth, Rylen Knuth, and Landen Knuth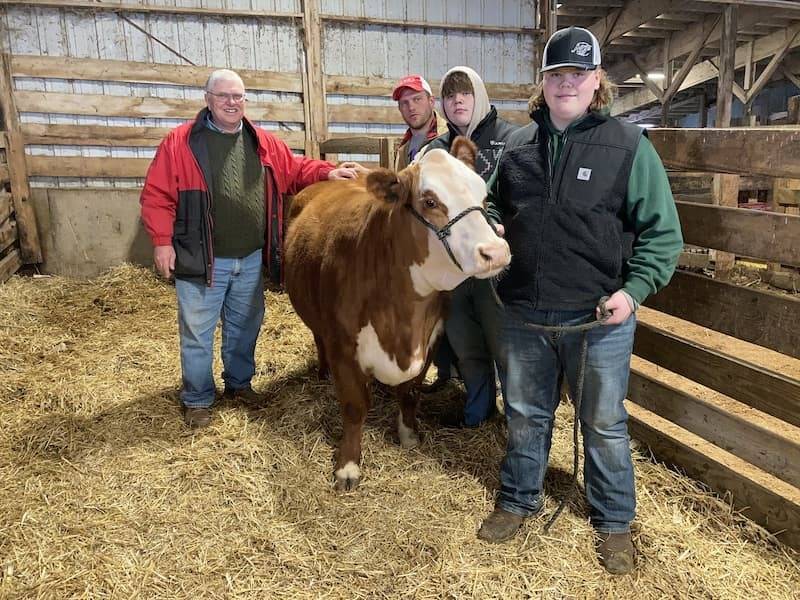 2022 Wisconsin Hereford Association Fun'd and Pie Auction
Total $3121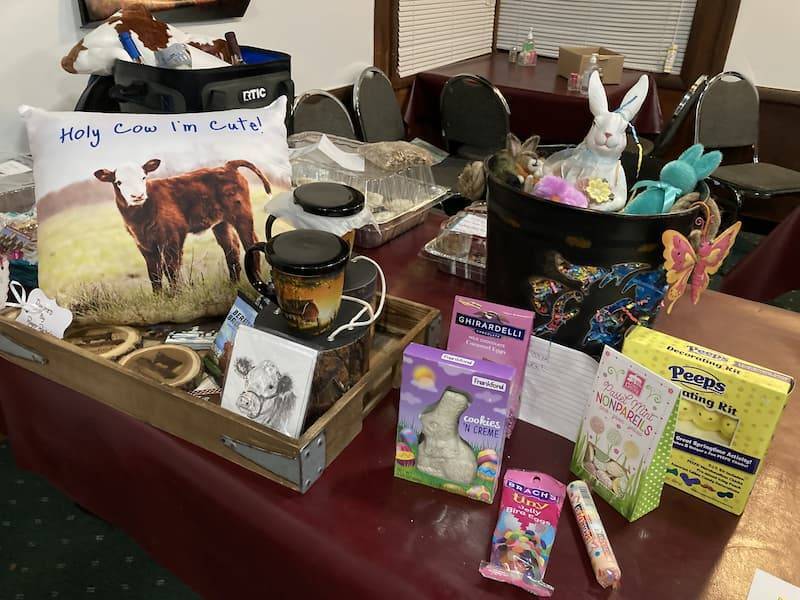 Thank you to all donors for the Fun'd and Pie Auction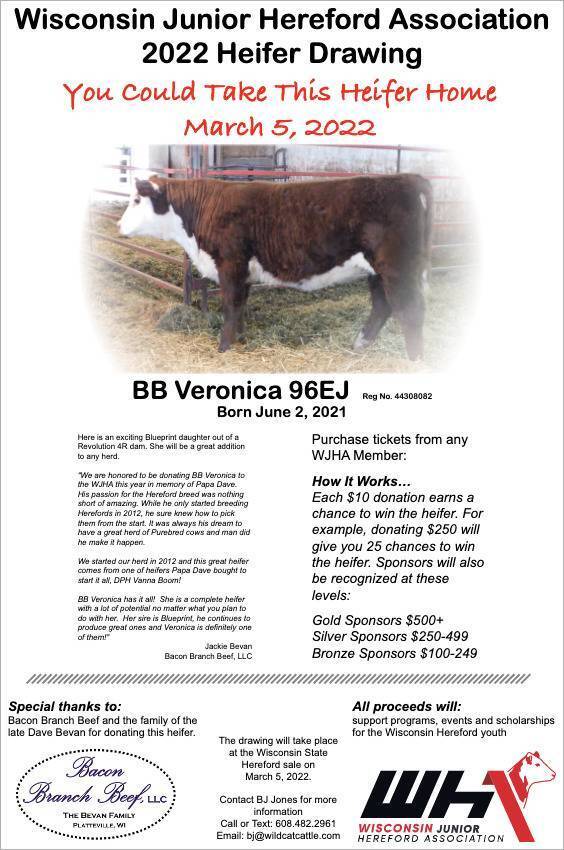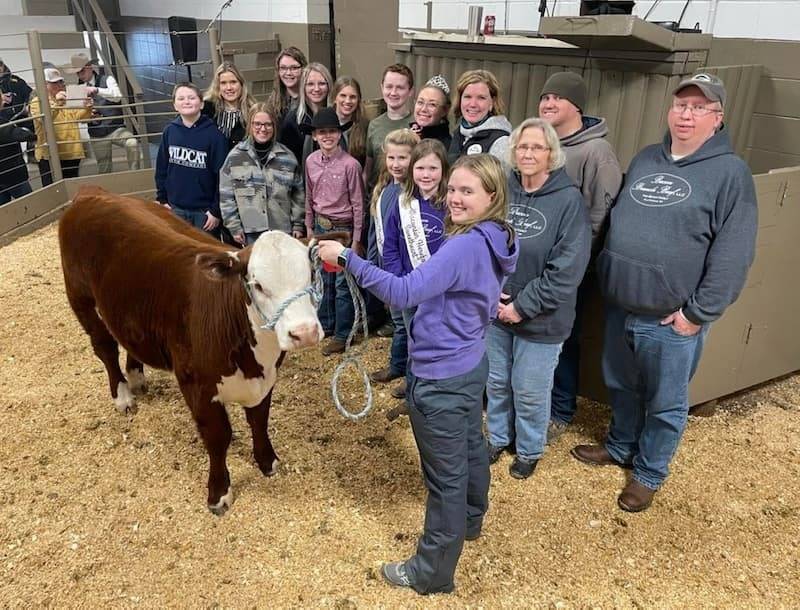 The Wisconsin Hereford Association thanks the Bevan Family, Bacon Branch Beef, Platteteville, WI, for their donation of Lot 1 to the WHA State Sale in Fennimore on March 5, 2022. The Bevan's donated BB Veronica 96 EJ in memory of Papa Dave Bevan. The donation heifer raised $11,600 for Wisconsin Junior Hereford Association Programs and scholarships. Thank you to all who donated! Congratulations to Kim and Jeanine Radel, K & J Polled Herefords, Spring Green, WI for purchasing the winning ticket!
If you are interested in donating a heifer for 2023, please contact any WJHA member or advisor BJ Jones at 608-482-2961.
2022 Wisconsin Hereford Association Spring Sale
Saturday, March 5, 2022
Noon
Fennimore Livestock Exchange
If you are unable to attend the sale, please go to lao.live
You can log in or register
Click on Wisconsin Hereford Association Sale
Catalog can also be viewed on the main www.lowdermanauctionoptions.com
To view updated EPDs, picture and videos, Please go to www.hereford.org
Click Marketing, then Production catalogs and scroll down until you find Wisconsin Hereford Association Sale Herefords on Demand catalog.
Lunch stand will be available by the Platteville Block and Bridle Club
Breeders and Friends Banquet
Friday, March 4, 2022
6 pm Social 7 pm Beef & Fish Buffet
Cottonwood Sports Bar & Supper Club
Fennimore, WI
Fun'd and pie auction to follow
Everyone is welcome
Donations are also welcome
Please call, text or email Melissa Berggren for reservations at 414-550-5114 or maggie99mae@yahoo.com by February 25
Grant Info
The Wisconsin Hereford Association is offering a Heifer Grant Program. Two $500 grants will be awarded to WJHA members to use towards a purchase of a Hereford female in the WHA Spring Sale.
Heifer Grant Program
2021 Wisconsin Hereford Association Spring Sale Report
44 Total Lots Gross $136,050 Average $3092.05
11 Bulls Gross $42,400 Average $3854.55
5 Cow-calf Pairs Gross $17,100 Average $3420
7 Bred Heifers Gross $23,300 Average $3328.57
21 Open Heifers Gross $53,250 Average $2535.71
1 Semen Lot Gross $300 Average $60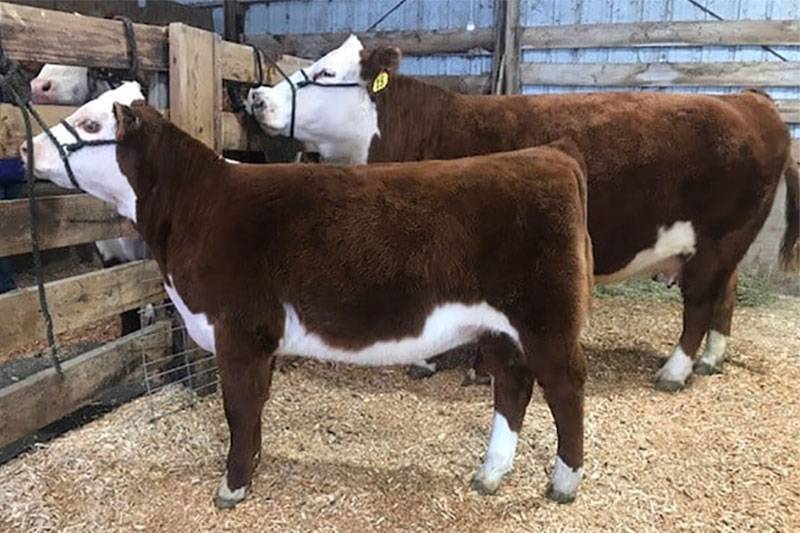 Top Selling Bull
Lot 13 Wildcat LMAY James Bond 007 a March 5, 2020 son of CHEZ/PUGH/HARA Logic 8815F ET. Consigned by Wildcat Cattle Company and Lauren May. Buyer: Douglas Landrum of Huntington, IN for $6000
Top Selling Cow-calf pair
Lot 15 LBB CFF 38Y Cassie 48D a March 6, 2016 daughter of KJ BJ 319X Courtland 010A ET. Consigned by White Ranch. Buyer: Allison Ash of Newton, WI for $6300
Top Selling Bred Heifer
Lot 25 Huth C006 Shelly G057 a May 6, 2019 daughter of JDH Victor 719T 33Z ET. Consigned by Huth Polled Herefords. Buyer: Narrows Creek Farm – Isaac & Stephanie Knuth of Loganville, WI for $4100
Top Selling Open Heifer
Lot 44 PRR MRK Stormina 202H a May 6, 2020 daughter of UPS Sensation 2296 ET. Consigned by Plum River Ranch. Buyer: Sage Huneke of Lena, IL for $4000
2021 Wisconsin State Sale Banquet Fun'd and Pie Auction Report
Fun'd Auction Total $1530
Pie Auction Total $1935
Queen Endowment Fund $3875
Thank you to Beth Wissner for her gracious donation of 4 vintage Hereford prints from the late Randy Craig Estate.
Thank you to Crooked Creek Herefords, C&L Hereford Ranch and Wildcat Cattle Company for their purchase of these prints.